Your satisfaction is our ultimate goal, to ensure that our customers receive the highest level of service and quality we can provide.
Instant changes
We were not so set to believe that it would actually help out our dog. What they say "don't knock it til you try it.", it's true! She is very flexible when/where she can adjust your dog. Easy to get a hold of! Bear (our mutt that shows in agility) loves her!
Animal Chiropractic is phenomenal! Dr. Jessica is the best!
We have a black Lab who is getting up in years but still thinks that she's a puppy! Dr. Jessica helps her stay limber so she can enjoy her last few years. Thanks Dr. Jessica!
I'm a Believer!
I have a 14 year old Quarter Horse gelding named Scotch that I've owned for 2 years. He has never wanted to take his correct left lead and often it has lead us to frustration and an unpleasant ride. I did everything I could (stretching, muscle build, ground work and flexing) as I did not believe in equine chiropractors. After MONTHS of frustration and feeling like nothing would work, I asked Dr. Jessica to come take a look at my horse and see what she could do. IMMEDIATELY after his adjustment of his neck, back, and hips he felt like a new horse! I turned him out into the paddock and he was acting like a spring chicken! He felt so much better. Today I rode him for the first time since his adjustment and he was a different horse under saddle as well. As expected, he didn't want to take his left lead right away but quickly figured out that he was no longer in pain and took it. BEST DAY EVER! If you have any doubts about animal or human chiropractic, PLEASE TRY IT OUT as I am now a believer. My horse and I are now more of a duo than we ever were. THANK YOU DR JESSICA!!!
Best thing for Mak
Seeing Dr. Jessica was the best thing for Mak. He had back issues and at 13 years of age, surgery was not something I wanted to consider, We tried anti-inflammatory medication, but it was only a temporary solution. After our first appointment with Dr. Jessica, Mak was able to go up and down the stairs again and his back legs were holding him up. He started playing again and he was a happier dog. Mak loved visiting with Dr. Jessica and was always happy after treatment. Chiropractor visits made his quality of life so much better. I would not hesitate to bring another of my furbabies in for treatment, if needed.
Non-invasive Solution
Charlee, 9 year old Whippet, started to have a continuous head tilt not related to curiosity. The first solution was to have a neurology exam to determine cause then solution. After being introduced to Dr. Jessica and considering chiropractic care to solve the issue seemed plausible. After further dialog with our vet, he agreed non-invasive should be considered. After a few sessions with Dr. Jessica improvement became apparent. With the home exercises Charlee has returned to normal after a few additional weeks. We are very pleased the non-invasive approach provided the solution. Dr. Jessica was gentle and caring which became evident with each visit where Charlee greeted her happily.
Reducing limping
Saphie has had a chronic limp for over a year with bed rest doing little to nothing to help it and nothing showing as a problem on X-rays or other tests. After the first appointment I could tell it may have helped slightly, but now after 3 visits she limps less, is less stiff after getting up, and seems to be able to jump during agility training much easier. Healing Meadows has been great and I'm so glad we've found her!!
It works!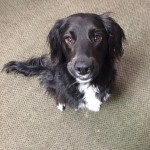 I show my dog in agility and my trainer said I should get Bear adjusted after showing her. I wasn't so sure at first but then it got me thinking, and watching my dog more closely. I noticed when she got tired or lazy she started to slightly drag her back leg. I also noticed she was getting very stretchy. As in every time she would get up from laying down she would do a full downward dog stretch. I then said "fine we will give this a shot" what can it hurt at least one time. She had a lot of things out of whack. All the places I noticed her having issues could be fixed. The next day after her first visit, I took Bear for a walk and noticed right when she would normally start to drag the paw… it never happened. She stopped doing the constant stretching also. And what I didn't expect, was she got more energy. Now some would say "oh great", but when you do a high energy sport you need all the help you can get. I have gone back a few times and each time is better. When something out of the ordinary isn't right; after I think what she has done or how hard she has played all the dots click. Needless to say I am amazed on how well it helps and will keep coming!
No Surgery for Baxter!
My little buddy, Baxter, now eleven, has had a problem with his rear leg since he was a puppy. For years, if he pivoted wrong (he's a spinner) he would hold up a rear leg and not be able to walk. Instinctively, we would pick him up and rub his hip area and every time we'd feel a "pop", put him back down and off he'd go, as good as new. But everything drastically changed two years ago when he got lost for several hours. When we found him, he was really hurting, and had obviously ran on it for hours with it "out". Then, almost exactly a year later, he had another accident and re-injured it again but in addition, acted as if he wrenched his whole spine. Our vet examined him, put him on steroids and pain medication, and told us to keep him quiet and that they thought the real problem was his knee-cap (luxating patella). They were quite insistent that surgery was the only way to help Baxter. After researching this procedure, I just couldn't move forward with it until I tried every other option. Some good friends told us about Dr. Jessica so I gave her a call. Our first visit was quite amazing! We noticed some immediate changes with Baxter but also knew it would take a few adjustments before we'd know if this was going to be our answer for him. I am happy to say that he is doing much better and we are so thankful! While we still have to make sure our little guy doesn't do much jumping or cat chasing, we believe he will be able to enjoy the rest of his life with little or no pain and NO surgery! I highly recommend Dr. Jessica – she's knowledgeable, kind, responsive, and it's obvious she loves her little furry patients!
Medication is not always worth its side effects
My first baby is going to be 15. She has had a rough time with arthritis in her legs. We had her on a daily anti-inflammatory which caused her kidney function to get all out of wack. She was having accidents in the house which was not fun for us to clean up, and she really seemed upset by them as well. The vet suggested to take her off the anti-inflammatory, which we did right away. Then we switched her to Glucosamine with MSM. This was helping, but not 100%. Then a friend shared stories of canine chiropractic and I thought it was worth a try. Hershey is a dog who does not tolerate touch for a long period of time from strangers. But even at her first visit, she did not mind the adjustments. I think her monthly adjustments are keeping her comfortable. I am grateful for the care that Healing Meadows is giving her.
Thank you Dr. Jessica!
Thank you for helping Genabelle be Genabelle
My Boxer Genabelle has been a happy, bouncing, leaping, spinning dog all her life.  That is until she turned 13 and finally started acting her age.  Unfortunately "acting her age" went beyond just slowing down.  It started with not getting up on the bed.  Then progressed to having trouble getting into the car, not getting up on the couch, shuffling/dragging her feet and slipping on tile floors.  She was still glad to see her friends but she couldn't do her signature leaping spin. I was so sad that she just couldn't do so many of the things that were so "her".
Enter Dr. Jessica.
Having never been to  a chiropractor for myself or a pet I didn't know what to expect and was worried how Genabelle would react.  In her old age she's become quite nervous about new things.   I was surprised by how still she stood for her first adjustment. She didn't complain or shake nervously as Dr. Jessica did all sorts of new and strange things.  The first couple days after that initial adjustment were amazing.  Genabelle was steadier on her feet, doing the big dog stretch when she got up, and stepped up onto the couch all by herself.  As the week went on the wobble returned.
We continued with weekly adjustments and she kept getting stronger and making it further into the week before the wobble returned.  We now see Dr. Jessica for maintenance adjustments every 2 weeks.  Genabelle is more active again and has her confidence back on the stairs. She is sleeping on the couch, jumping up into the car unassisted, and shuffling less.  She's not 100% but then again, she is a 13 year old Boxer.  But best of all, she sometimes manages to spin happily without falling when she sees her friends.  Thank you Dr. Jessica for helping Genabelle be Genabelle.
We are grateful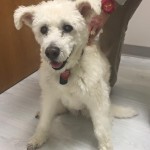 Ralph celebrated her 17th birthday on October 4th. We feel so blessed to have her in our lives. Thanks to Dr. Woodward and Dr. Donaldson for helping her to continue to live a happy, old dogs life.
Ralph receives essential oil therapy everyday to help her relax and Dr. Donaldson does chiropractic adjustments on her once a month.
This holistic approach has eliminated the scary spasms Ralph experienced two months ago. Until we consulted with these two talented doctors we were afraid we were going to lose our girl but thanks to them she is doing beautifully.
We are grateful.
Brewer loves Dr. Jessica!
I adopted Brewer from the humane society in April and was told he had issues with his hips. He had trouble going up any stairs at all, and just walking in general. I contacted Dr. Jessica and got an appointment scheduled for him. She came right to our house and did the exam and adjusted him. At first he wasn't sure about it–he seemed to be in quite a bit of pain and didn't like to be touched. By the end of the visit he was more comfortable with the adjustment and didn't seem to mind. That night the difference I noticed in him was incredible! He was moving and running around like I'd never seen him do before! We had another visit a few weeks later and he's doing great! The improvement in his overall movement, mood and demeanor is outstanding! We're seeing Dr. Jessica again in a few days–I can't wait to see this process progress!
What A Difference An Adjustment Makes!
Ricky was a mess–twitchy and hopping. All the vet could do was inject him with steroids and give him pills. Dr. Jessica came to the house, gave him an exam and adjustment and WOW what a difference it made. He was the happy, funny little dog he was before at the ripe old age of 7. It will take time and patients to keep the joints where they are supposed to be, but I'm happy that we were referred to Dr. Jessica.
Immediate Improvement
When I was told my 14 month old boxer suffered from urinary incontinece, and the only solution was life-long medication I was devestated. Here she was a thriving puppy with endless energy, until she had no previous health history, until after her spay surgery. When I came to Dr.Jessica she had researched and found a number of different options that would help us manage Belle's symptoms. I am happy to say that Belle's symptoms of posturing and dribbling have significantly improved since her first adjustment. We look forward to continuing our care plan with Dr.Jessica in hopes to manage Belle's symptoms for continued health and wellness. I am thankful to have found a great partner to coincide with routine veterinary care.